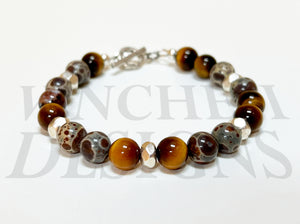 Elements>SantaFe
Sale price Price $219.00 Regular price Unit price / per
Free shipping in North America, International shipping calculated at checkout.
I am excited to introduce the latest addition to the Elements Collection:
Elements>SantaFe
The Elements>SantaFe luxury bracelet is inspired by Santa Fe, New Mexico and the stunning Orbicular Jasper stone, here paired with Tigereye stones. 
Recently I was able to acquire several beautiful strands of Orbicular Jasper in Santa Fe and immediately went to work on designing this new piece.
The Elements>SantaFe features the Vinchesi Designs 4-3 pattern, in which pairs of two kinds of stones are placed consecutively and then interrupted by a silver piece in every third location (see the DeepBlue>Original luxury bracelet for more detail on this special arrangement).
Sunlight of course loves Tigereye and you can see it come alive when outdoors, as in the photos below featuring a classic Santa Fe adobe wall and a beautiful desert rock in golden-hour light.
Vinchesi Designs aims to keep things spicy and an occasional rogue stone is often the vehicle: in the Elements>SantaFe, a single Hungarian Agate stone makes a subtle but important contribution.
Stones and Materials
The Vinchesi Designs Elements>SantaFe luxury bracelet contains the following elements:
Orbicular Japser stones
TigerEye stones
Hungarian agate rogue stone
Thai silver pieces
Thai silver clasp
Sterling silver crimp covers
Sterling silver crimps
This luxury bracelet is double-strung with 49-strand stainless steel wire and each stone and silver element is smoothed on the inside to reduce abrasion and enhance durability.
Cross-section of Orbicular Jasper
Sizing & Uniqueness of your Piece
This is a hand-made luxury bracelet that can be sized specifically for your wrist. Choose a size at checkout, but know that upon placing your order we will correspond directly about the desired fit. 
In addition, the orbicular jasper and tigereye stones have a wide range of looks (no two stones are alike). You will be pleased to know that as the design for your individual piece takes shape, we will correspond and make the final choices together.