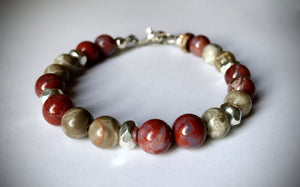 Elements>Celestial(Red)
Sale price Price $189.00 Regular price Unit price / per
Free shipping in North America, International shipping calculated at checkout.
I am excited to introduce a new luxury bracelet in the Elements Collection, the
Elements>Celestial(Red)
Elements>Celestial(Red) features two kinds of Jasper stones: Fossil jasper and Red jasper, the latter of which inspired the bracelet's name -- the red stones are so luminous and full of swirls that each stone looks like a planetary body.
The stones and Thai silver pieces are arranged in my 4-3 pattern that originated in the DeepBlue collection, in which four stones (two pairs of each kind) are accented in every third position by a silver piece. This creates visual interest in a subtle but powerful way: sometimes the red stones are together, and sometimes they are split by silver (the same is true for the Fossil jasper), but this is not achieved randomly; a pattern gives the effect a solid backbone.
Stones and Materials
The Vinchesi Designs Elements>Celestial(Red) contains the following elements:
Red jasper stones
Fossil jasper stones
Thai silver pieces
Thai silver clasp
Sterling silver crimp covers
Sterling silver crimps
This luxury bracelet is double-strung with 49-strand stainless steel wire. Each stone and silver element is smoothed on the inside by hand to reduce abrasion and enhance durability.
Sizing
This is a hand-made luxury bracelet that can be sized specifically for your wrist. Choose a size at checkout, and please know that upon placing your order, we will correspond directly about the desired fit. The Sizing page also contains additional useful information.