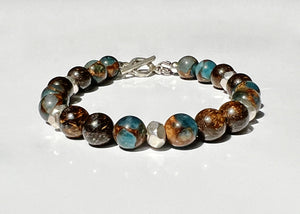 DeepBlue>Bronze
Sale price Price $189.00 Regular price Unit price / per
Free shipping in North America, International shipping calculated at checkout.
I am pleased to introduce a stunning new member of the DeepBlue collection:
The DeepBlue>Bronze 
The DeepBlue>Bronze is centers on perhaps my favorite stone: the agate-blue that evokes the earth and its oceans. DeepBlue>Bronze integrates the blue stones (and their golden swirls) with Bronzite stones and silver pieces in a visually interesting 4 : 3 pattern that has a magic all its own (read on to discover it).
All designs in the DeepBlue collection feature a repeating pattern of four elements (double pairs) that are interrupted by another pattern whose repetition is in threes. This photograph and diagram illuminates how pairs of each stone are intersected in every third position with a beautiful piece of silver (Thai silver in this case).  

The effect is one of consistent variation: sometimes the blue stones are together, and sometimes they are separated by the silver pieces (the same is true for the bronzite elements).
An important thing to note about bronzite stones is that they appear darker in regular light (or shadow) than when under direct sunlight. This is true of most stones, of course, but bronzite exhibits more contrast than others.
In the following photo, the same pair of stones is shown in shadow (on the left) and in direct sunlight (on the right).
Also important to observe is that most bronzite stones have a dark hue and those with a more gold-like fire are more rare.
Upon placing your order, please know that we will correspond directly and I will share the specific stones I have chosen for your piece.
Stones and Materials
The Vinchesi Designs DeepBlue>Bronze contains the following elements:
Agate-blue stones
Bronzite stones
Thai silver pieces
Thai silver clasp
Sterling silver crimp covers
Sterling silver crimps
This luxury bracelet is double-strung with 49-strand stainless steel wire and each stone and silver element is smoothed on the inside to reduce abrasion and enhance durability.
Sizing
This hand-made luxury bracelet can be sized specifically for your wrist. Don't be concerned with selecting the "right" size at checkout -- just pick a size and then upon placing your order, we can correspond directly for accurate sizing and the piece will be handmade specifically for you.