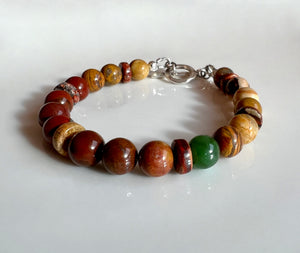 Elite>FallEquinox
Sale price Price $350.00 Regular price Unit price / per
Free shipping in North America, International shipping calculated at checkout.
I am excited to present a unique luxury piece for the Elite collection:
Elite > FallEquinox
The Elite>FallEquinox is composed almost entirely of Jasper stones hand-selected from hundreds to evoke the fall season, with its amazing color changes across leaves and landscapes.
This is a one-of-one luxury bracelet.
Fall season demands luxury attire to match, and it was this imperative that led me to make this special piece.
Visual interest is enhanced by disc-shaped jasper stones of similar colors but inserted in places that create visual contrast.
Just as leaves change from green to yellow to red to orange, this bracelet covers the spectrum through an ensemble of stones but also within some of the individual stones. Here is a closeup of a stunning jasper stone with mesmerizing swirls.
A lone nephrite jade stone evokes the last green leaf to turn, and gives the design a beautiful burst of contrasting color.
Whether in direct sunlight, or in the shadows, these stones and their arrangement deliver the fall fashion vibes.
Stones and Materials
The Vinchesi Designs Elite>FallEquinox contains the following elements:
Jasper stones - round
Jasper stones - disc
A rogue nephrite jade stone
A rogue petrified wood stone
Thai silver pieces
Thai silver clasp
Sterling silver crimp covers
Sterling silver crimps
This luxury bracelet is double-strung with 49-strand stainless steel wire and each stone is smoothed on the inside to reduce abrasion and enhance durability.
Sizing
This hand-made luxury bracelet can be sized specifically for your wrist. Don't be concerned with selecting the "right" size at checkout -- just pick a size and then upon placing your order, we can correspond directly for accurate sizing of this one-of-a-kind piece adapted specifically for your wrist.