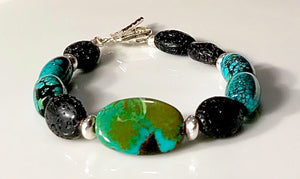 Elite>2x2x1 Turquoise & Lava
Sale price Price $379.00 Regular price Unit price / per
Free shipping in North America, International shipping calculated at checkout.
This gorgeous 1-of-1 hand-made luxury bracelet has a beautiful signature turquoise stone that embodies a mix of greens, a hint of blue, and a triangle of brown that gives it a unique character.
Just as a proper frame supports a beautiful painting, the sterling silver accents and black lava stones support this turquoise center stone and allow it a proper center stage.
The flipside of the center stone offers much more than a mirror image, and gives this luxury piece a Reverso effect: you can decide which look suits you on a given day, or throughout the day.
But the sides of the bracelet almost steal the show: I assembled these four stones from a group of 25 on the basis of their striking black veins and shape and their synchronicity with the black lava stones.
Stones and 

Materials

The Vinchesi Designs Elite>2x2x1 Turquoise & Lava bracelet contains the following elements:
Turquoise center stone
Lava stones
Turquoise (barrel shape) supporting stones
Sterling silver nuggets
Thai silver clasp
Sterling silver crimp covers
Sterling silver crimps
This luxury bracelet is double-strung with 49-strand stainless steel wire and each stone is smoothed on the inside to reduce abrasion and enhance durability.
Sizing
This is a one-of-a-kind, hand-made luxury bracelet that can be sized specifically for your wrist. Choose a size at checkout and know that upon placing your order, we can correspond directly about the desired fit.  Please see more information here.