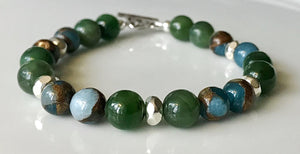 DeepBlue>Jade
Sale price Price $210.00 Regular price Unit price / per
Free shipping in North America, International shipping calculated at checkout.
The DeepBlue series of Vinchesi Designs luxury bracelets is centered on an extraordinary blue stone that evokes the earth and its oceans.  The DeepBlue>Jade design integrates the agate blue with beautiful Canadian jade stones and silver pieces in a visually interesting 4 / 3 pattern and finishes with a Thai silver clasp.
Details of the Design
Creating visual interest while adhering to a pattern -- in this case two of them that occupy the same space -- is this bracelet's core appeal: a repeating pattern of four elements is interrupted by another pattern whose repetition is in threes.
The following diagram uses the DeepBlue>Original bracelet to show the pattern: 
The effect is one of consistent variation: sometimes the Canadian jade stones are together, and sometimes they are separated by the silver pieces (the same is true for the blue stone elements).
DeepBlue>Jade has an additional visual intrigue: the Canadian Jade stones are 10 millimeters versus the blue agate stones, which are 8 millimeters, and this slight variation adds another dimension to the enjoyment of this luxury piece.
Stones and Materials
The Vinchesi Designs DeepBlue>Jade contains the following elements:
Canadian jade stones
Blue agate stones
Onyx black stones
Obsidian stones
Thai silver pieces
Thai silver clasp
Sterling silver crimp covers
Sterling silver crimps
This luxury bracelet is double-strung with 49-strand stainless steel wire and each stone and silver element is smoothed by hand on the inside to reduce abrasion and enhance durability.
Sizing
This is a hand-made luxury bracelet that can be sized specifically for your wrist. Choose a size at checkout and know that upon placing your order, we can correspond directly about the desired fit. The Sizing page also contains additional useful information (click here).