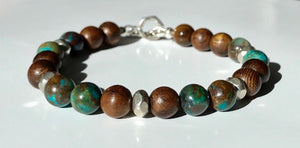 Wood.Stone>SKT
Sale price Price $210.00 Regular price Unit price / per
Free shipping in North America, International shipping calculated at checkout.
The Wood.Stone>SKT luxury bracelet brings together the mesmerizing beauty of chrysocolla stones -- hand-selected for mostly brown shades -- with wood elements of a selected matching hue to create a stunning visual blend of elements one might not imagine would go together.
As in the case of the Vinchesi Designs DeepBlue>Wood luxury bracelet, the juxtaposition of wood and stone in the SKT comes to life through the Vinchesi Designs 4-3 pattern in which groups of four elements (2 stones and 2 wood) are interrupted by solid silver pieces in every third space. This repeating pattern creates changing pairs that elevate the experience of the bracelet.
Please note that the bracelet in the photos has been sold, and that each SKT piece will have its own personality depending on the particular chrysocolla stones chosen. We will work together on the look of the piece to your satisfaction, after your purchase.
Stones and Materials
The Vinchesi Designs Wood.Stone>SKT contains the following elements:
Chrysocolla stones
Wood beads
One Tigereye stone
Thai silver pieces
Thai silver clasp
Sterling silver crimp covers
Sterling silver crimps
This luxury bracelet is held together by 49-strand stainless steel wire and stainless steel split-rings on each end of the Thai silver clasp.
Sizing
This hand-made luxury bracelet that can be sized specifically for your wrist. Upon placing your order, we can correspond directly for accurate sizing. Please see more information on the Sizing page.