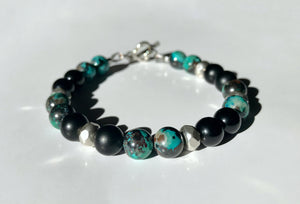 BlackDial>Chryso
Sale price Price $220.00 Regular price Unit price / per
Free shipping in North America, International shipping calculated at checkout.
Having recently acquired several strands of particularly special chrysocolla stones, I am thrilled to offer the following luxury bracelet design, the BlackDial>Chryso:
Chrysocolla stones always exhibit beautiful combinations of turquoise, amber, chocolate, and reddish hues and yet these particular specimens offer an almost metallic element alongside the blues and greens; I find that photography can't quite do them justice.
My design intention always involves the proper elevation of such stones via the use of other stones that serve as a kind of frame for them, and in the case of the BlackDial>Chryso a pairing of two kinds of onyx stones -- matte, and luminous -- became the perfect complement to these chrysocolla. 
The Thai silver elements add the finishing touch via my 2+2x3 pattern in which alternating pairs of chrysocolla and onyx stones are interrupted every third position by a silver piece.  This patterned variation produces stunning visual interest and offers the wearer far more than just another single group of beads strung one after the other.
Stones and Materials
The Vinchesi Designs BlackDial>Chryso contains the following elements:
Chrysocolla stones
Onyx stones
Thai silver pieces
Thai silver clasp
Sterling silver crimp covers
Sterling silver crimps
Stainless steal split rings
This luxury bracelet is held together by two lengths of 49-strand stainless steel wire.
Sizing
This is a hand-made luxury bracelet that can be sized specifically for your wrist. Upon placing your order, we can correspond directly for accurate sizing. Please see more information on the Sizing page.